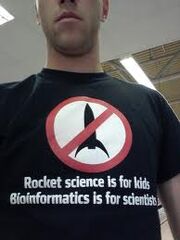 Bioinformatics is the scientific field that deals with biomedical and biological information (just to name a few), data, and knowledge - their storage, retrieval, and optimal use for problem solving and decision making. Bioinformatics makes it possible to mark genes and their biological features on large sets of genetic information, such as the human genome.
Bioinformatics is used for analyzing biological data such as nucleic acid and protein sequences, functions, biological pathways and genetic interactions. In the field of genomics, bioinformatics is used for comparative genome analysis between species to determine the evolution and divergence of species.
Bioinformatics touches on all basic and applied fields in biomedical research and is especially tied to modern information technologies. Bioinformatics is especially relevant in the age of the digital medical record by allowing mass queries of information within a population without the burden of manual data extraction from each individual paper record.
Community content is available under
CC-BY-SA
unless otherwise noted.